Academics at Prescott College
Concentration:
Equine-Assisted Learning
Graduate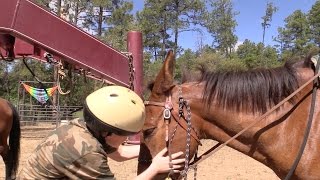 As the leading academic program in its field, our Equine-Assisted Learning (EAL) program offers training in methods of partnering with equines to support human growth and development. Our program is a unique opportunity for students pursuing a Master of Arts Degree in Education while specializing in the rapidly evolving modality of partnering with equines in educational and personal growth programs.
This 45 semester credit graduate program prepares students to design and deliver effective programs that partner with horses to facilitate learning, growth, and change with a wide variety of populations. Your background, skills and goals are unique. Your approach to partnering with people and horses should be unique as well. This program supports your exploration of the skills and experience necessary for you to be a competent leader in this quickly developing field.
About EAL
Our EAL program blends a comprehensive theoretical framework with hands-on experience in equine-assisted/facilitated work under the guidance of internationally renowned practitioners. The 15 graduate credit concentration consists of five courses. Four of these courses each contain a full semester of course work, delivered through an e-learning platform, as well as a four-day residential intensive workshop. The fifth course is comprised of supervised practicum and internship work in the field.
Course work (15 graduate credits)
Explorations in Equine-Assisted Learning
Applied Relational Horsemanship in Equine-Assisted Learning
Group Process and Facilitation in Equine-Assisted Learning
Best Practices in Equine-Assisted Learning
Practicum / Internship
The EAL program provides a breadth of resources, perspectives and faculty support that informs and enhances your personal journey and exploration of bringing people and horses together to support profound growth and change. The student-directed nature of the program allows you to discover ways of partnering with the horse in the field of mental health that suit you and the populations you want to work with.
Relational Horsemanship at Prescott College
The principles of relational horsemanship are not new, they are fairly universal, and lay the framework for relationships of many kinds, human-to-human, and human to the natural world. Engaging with the horse in a way that not only focuses on the task at hand, but requires meeting each individual where they are and staying present in the moment. Relationships with horses, like those with people, need to be developed, and they take a lot of the same skills: listening, observing, leading and following, collaboration through partnership, and creating connection. A central part of this process is the ability to recognize your own authentic expression.
Residential Intensives
Students in the Master of Arts program in Education with a concentration in Equine-assisted Learning attend four-day Residential Intensive at a local equine facility as part of their course work. Residential Intensives are held immediately before or after the required Master of Arts Colloquia. Students pay a fee per intensive for ranch accommodations, food, and facility use, as well as for care and feeding of the equine herd. The fee can be covered through financial aid.
Each of these Residential Intensives are connected to one of the four core Equine-Assisted Learning (EAL) courses. The first three Residential Intensives are held at Juniper Well Ranch just outside of Prescott in Skull Valley, AZ. Intensives start @ 2:00 p.m. on the first day and wrap up by noon on the last day. The Best Practice Gathering is a national conference held at different locations each year. If you are travelling by plane allow at least three hours travel between Phoenix Sky Harbor and Juniper Well Ranch. Students stay at the ranch for the Residential Intensive. Room and board and expenses are covered by $550 course fees.
First year EAL students attend the Explorations and Facilitation intensives in August and January. Second year students attend the Relational Horsemanship and Best Practices intensives in August and April. Graduate Certificate Students can take all four courses in order to complete the program in one year.
Applied Relational Horsemanship in Equine-Assisted Learning and Mental Health - (second year and certification students)
August 15-18, 2016
Explorations in Equine-Assisted Learning and Mental Health - (first year students)
August 22- 25, 2016
Group Process and Facilitation in Equine-Assisted Learning and Mental Health - (first year students)
January 9-12, 2017
Best Practices Gathering on Equine-Assisted Learning and Mental Health - (second year and cert students, open to the public)
April 3-6, 2017
Applicants seeking a similar educational experience with an emphasis in counseling psychology and preparation for licensure as a mental health professional are encouraged to apply to the Equine-assisted Mental Health concentration through the Masters of Arts program with a concentration in Education .
A Post-Graduate Certificate in Equine-Assisted Mental Health or Equine-Assisted Learning is also available. Contact admissions at 877.350.2100 for additional information.
Please refer to the Gainful Employment Disclosure