Academics at Prescott College
Concentration:
Human Development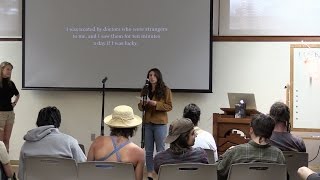 Human Development is a limited-residency undergraduate competence area that allows students to explore the many ways that humans are both unique and a part of the web of life. It provides students with individualized opportunities to select from a wide variety of courses that provide perspectives on human potential. It is a broad-based competence area with many courses from which to choose. Students' freedom to select mentors and courses according to their interests reflects Prescott College's educational philosophy, which stresses mentored, self-directed, and experiential education, within an interdisciplinary curriculum.
Limited Residency Bachelor of Arts
Human Development Studies provides relevant and rigorous theoretical and experiential preparations for students interested in advocacy, community-service, and the helping-professions generally. Students pursue courses and internships that provide perspectives on human needs and potential while encouraging personal growth and increasingly sophisticated communication skills. They develop self-awareness and a respect for both human and non-human worlds that fosters integration of the cognitive, emotional, behavioral, social, and spiritual aspects of the human personality with an understanding of systems perspectives. This kind of integration often requires a shift in attention beyond modern Western views of human nature.
Although each student is free to design an individualized degree program, many students opt for one of these popular learning paths:
• Holistic Health
• Human Services
• Psychology
• Women's Studies
Graduate School
Mental Health Counselor
Limited-Residency Undergraduate Tuition and Fees
---