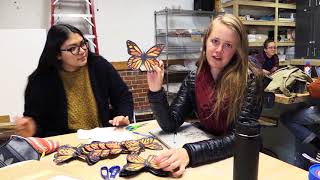 At Prescott College, each student will complete Core Curriculum courses during each year of their undergraduate experience. The Core Curriculum is designed to build community, provide support as students work towards their degree completion, and help students learn about subjects from an interdisciplinary perspective. The Core Curriculum supports students in developing creative and critical thinking skills to help address the challenges of the 21st Century. The progression of courses is structured around four key themes: Know Self, Know Other, Interrelate, and Get To Work. Within a collaborative, interdisciplinary, multigenerational learning environment students explore the issues of our time, while gaining exposure to the tools and skills to support them in addressing these challenges in their personal and professional lives.
All students graduate from Prescott College having developed a strong sense of self as it applies to various curricular areas, an understanding of and empathy for the experience of others in the world, tools for relating to others, skills for critical thinking and problem solving, methods for discovering and producing knowledge, an understanding of and ability to identify power and privilege, and project planning and implementation.
Core Curriculum Overview:
Core Curriculum 1 – Explorations of Self

Knowing Self: The process of shaping your own path in life begins with exploring and developing your sense of self. The possibilities ahead of you are informed by your relationship with your communities; your sense of place; your view of the world as informed by your values and beliefs, and your willingness to learn and grow. How do your life experiences and curiosities about the world shape the contributions you will make to this community?

This course integrates new students into the Prescott College community, acquaints them with the broad possibilities for learning at Prescott College, and introduces them to the variety of learning tools available to them as students. Topics explored in this course are designed to equip students with foundational skills and knowledge in communication, sense of place, self-expression, and identity. Students explore and reflect on their personal experiences and backgrounds, sense of self and home, and develop and reflect on their sense of purpose, belonging, and possibility entering college.


Core Curriculum 2 – Ways of Knowing

Knowing Others: How are different communities, places, ecosystems, and change projects being impacted by global problems? What can you bring to the search for solutions? How can we, as scholars, problem solvers, artists, and organizers collaborate with others to participate in building a just, healthy, meaningful, and sustainable future?

This course strives to build shared understanding of the challenges defining the world today and the circumstances that helped create them. Students will discover the multitude of communities, movements, and scholars working to solve these challenges and the role they can also play in discovering solutions. Building from the foundations of Core Curriculum 1 courses, this course broadens the scope of discovery from that of self-inquiry and engagement on a local scale to understanding the larger complexities of other identities and the world in which we live. Students pose questions about the challenges and opportunities of the 21st century, expanding their scope of interdisciplinary study, exploring global issues, diverse perspectives and histories, and the big questions at the center of different academic fields.

Core Curriculum 3: Inquiry and Analysis in the Liberal Arts

Inter-Relate: Producing new knowledge takes our ideas, aspirations, and questions beyond the boundaries of our own minds and conversations and makes them part of larger social discussions and projects. How do we move from exploring knowledge to producing it? What impact does research have on manifesting the change we wish to see in the world? What is a research question and how do scholars identify compelling questions? How do scholars link those questions to relevant theories and methods? How do they plan and conduct their research and how does the definition of what counts as research vary across fields of study? How does academic research circulate within various audiences and communities and what are the impacts and ethics?

This course works to provide students skills to produce and evaluate new knowledge by conducting research as a means to shape the future. Sustainable visions and effective solutions require an awareness of different ways of knowing and the ability to work with others outside your discipline. This course will select themes, readings and projects that illustrate how scholars obtain, analyze, and communicate knowledge across different fields and disciplines. Students will explore a wide range of different methods of research, ethics, and project design appropriate to their competence areas. Students will build on their learning from Core Curriculum 2, as they reflect on ways specific fields of inquiry and how to help to address the global problems of the 21st century. Lastly, students will engage in collaborative inquiry and action research by working together to support the development of one another's senior project proposals.

Core Curriculum 4: The Senior Project

Getting to Work: What are the challenges to completing a satisfying, rigorous Senior Project that fulfills your goals and aspirations? How can we problem-solve when new questions, obstacles, and possibilities pop up in the course of completing our projects? What can we learn from reflecting with our peers? How can we share the lessons we're learning with students in the planning stages of their own Senior Projects? And how can we support each other's success as begin to plan the transition to living in the world beyond Prescott College?

As students embark on their senior project they are simultaneously achieving their capstone experience while also preparing to transition into a new phase of their life. This course brings together cohorts of students completing their Senior Projects on related or complementary topics to discuss, problem solve, and reflect on each other's projects and support each other's success. Cohorts will work with the faculty facilitator who will convene meetings (according to the needs of the group) and provide support and curricular resources. Students will develop project management skills while they take their learning into the larger world through their senior project. Finally, as Prescott College prepared students to enter the community through the orientation program they will also be prepared to depart the community through an intentional and reflective rights of passage experience and professional development progression.

Frequently Asked Questions:

Q: Is the Core Curriculum Required?
A: All students enrolled in the On-Campus Undergraduate program at Prescott College as of Fall 2016 are required to enroll in Core Curriculum Courses.


Q: What courses do I take if I'm a transfer student?
A: Depending on the number of credits you have, you will be enrolled in one of the four Core Curriculum courses your first-year at Prescott College. You will follow the same course progression regardless of which course you begin with. You may not take all four courses depending on the number of credits you have.
Curriculum Faculty