University College of Southeast Norway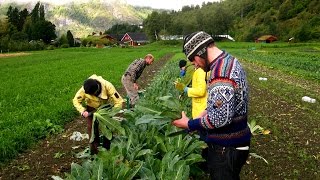 The opportunity to study abroad can be a life-changing experience, both personally and academically. At
University College of Southeast Norway
you will have the opportunity to take courses taught in English while living in a small Norwegian village. Bø i Telemark is nestled in the mountains and traditional cultural landscape where Telemark skiing first became popular, and the traditional Hardanger fiddle is still played. At the university, academic program offers one- or two-semester options in Environmental Studies, Norwegian Culture, and Friluftsliv, (Free Air Life), a distinctly Scandinavian version of Outdoor/Adventure Education.
Alpine Ecology and Environmental Management is designed for students who wish to gain deeper knowledge about ecological principles and environmental management in general and alpine areas in particular. Subject areas include:
Environmental characteristics of Scandinavian mountains
Geology and ecology of glacial environments
Alpine ecosystems
Common species of plants, animals, fishes, and birds in the alpine areas
Adaptation of living organisms to alpine environments
Principles of conservation biology with a focus on alpine areas
The opportunity to study Friluftsliv will provide students with introductory courses in outdoor pursuits such as sailing traditional wooden boats, canoeing, kayaking, mountaineering, and skiing with a distinctive Norwegian cultural perspective that emphasizes the value of "being at home" in nature. Upper Division students may see this as an opportunity to study different cultural approaches to areas taught in Adventure Education.
Norwegian Culture: includes an introductory class in Norwegian Language. Other classes include Norwegian Literature, and Eco-philosophy. Eco-philosophy is a course that can be taken with all three options, and is taught by one of Norway's leading Eco-philosophers, Per Ingvar Haukeland, who received his Ph.D. in Environmental Education from UC Berkeley, and co-authored Life's Philosophy, with Norway's preeminent Eco-philosopher, the father of Deep Ecology, Arne Naess.
Prescott College Professor of Environmental Studies and Sustainability, Doug Hulmes, was a guest professor at University College of Southeast Norway, and is eager to speak with any students interested in this exchange opportunity. In addition to the exchange program, Professor Hulmes leads a course titled "Explorations of Norway Nature and Culture" each year, where Prescott College students learn about the amazing landscape, history, and culture of Norway.